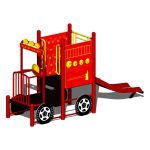 Fire Engine
Model Number: I03878
---
Little firefighters to the rescue! The Blue Imp Fire Engine sets the scene for friends to play and pretend. Two can take the wheel while their friends hitch a ride.
Recommended Ages: 2-12 years
Benefits: imaginative play, parallel play, social interaction
Colour Options: available in various colour schemes
---
More Fun On Wheels
Here are more products you might like.