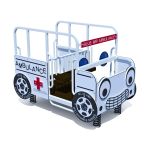 Bouncing Ambulance
Model Number: CN-443-01
---
Kids of all ages will enjoy going for a bouncy ride on the multi-user Ambulance! A great way to promote social interaction, imaginative play and more. Spring-mounted to provide the bouncing motion kids love.
Recommended Ages: 2-12 years
Benefits: imaginative play, parallel play, social interaction
Design Options: Can be freestanding or connected to a play structure; customizable with your school or park name.
---
More Fun On Wheels
Here are more products you might like.