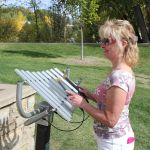 Aria
Model Number: Aria
---
This sleek looking 9-note instrument sounds like a delightful breath of fresh air.  A non-resonated instrument with aluminum keys and a powder-coated steel frame, mounted on a post of recycled re-enforced plastic.  Durable and beautiful!
https://www.youtube.com/watch?v=-y2xtxpL4eM
Recommended Ages: 2-12 years
Installation Options: in-ground, surface-mount
---
More Music Outdoors
Here are more products you might like.